#Korea Parking Sharing Service_NO.1 Parking Sharing Star Parking
Sharing you my house's parking lot
Parking is always an issue when you drive to downtown areas. Private parking is too expensive. The comparatively cheaper public parking lot is always full. Parking anywhere can easily lead to a parking ticket. Sometimes cars even get towed.
Due to parking problems, disputes happen even with the smallest things. In these times, there's a clear parking space that is in a first priority parking space for residents, or that which is owned by the landlord. Wouldn't you want to use that space while the owner isn't using it? Even if we have to pay for a small amount on top of it.
Korea Parking Sharing Service CEO Kim Jung-soo says,
"If we can utilize empty parking lots well, we can avoid parking chaos."
The Korea Parking Sharing Service is a service that allows people to share their own parking lot to others. Star Parking, which CEO Kim focuses on, is an application that analyzes when a parking lot is free and is a platform that allows people to use these empty spaces.
A simple way to share my house's parking lot
It isn't difficult to use. The owner who owns a parking lot registers the available time on the app. The user who checks this information finds the parking lot and parks his/her car. Upon leaving, he/she pays through the app.
The revenue goes back to the owner of the parking lot, except for commission fees. The usage fee is KRW 2,000 per hour. This is cheaper compared to private parking lots in downtown areas.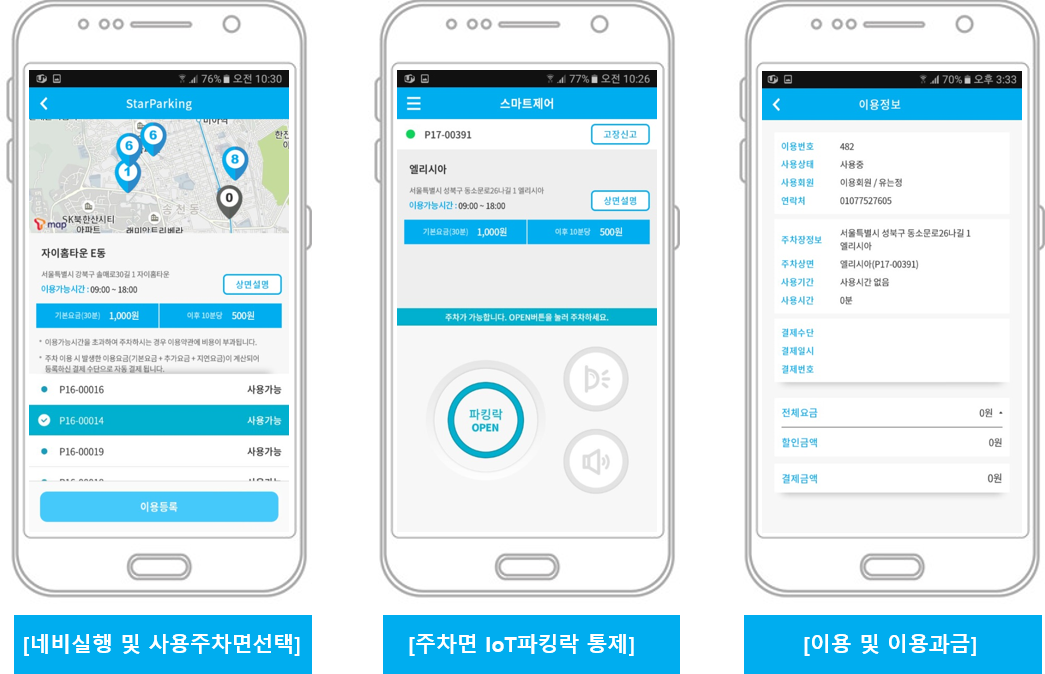 It is different from other parking sharing services.
Why did CEO Kim develop a service like this?
"The actual distribution rate of parking spaces in downtown Seoul is less than 70%. Parking is expensive and there aren't enough spaces. We believed that we could solve this problem with our IoT development capabilities. In fact, within less than a year of operation, we were able to secure 2,000 parking spaces. We plan to increase it to 5,000 spaces this year."
However, people may have other concerns. What if I booked a parking space and another car has already parked illegally? What if I get charged to pay for 2 hours when I only parked for an hour? Can someone clearly check what time I park and leave?
At Star Parking, they have solved this problem by developing Star Lock. Star Lock is a parking prevention pillar that is installed in the middle of the parking space. It incorporates a 3G wireless communication module and connects it with the app. It can be controlled using the app, and if there is an incoming vehicle that is prohibited, it prevents the car from entering.
There is no need to worry about fraudulent charges because it measures the time in and time out of the vehicle in real time. It provides a clear standard for parking lot owners as well as users.
Please click like for a sharing economy!
Recently, the Korean Parking Sharing Service was selected as a shared company by the Seoul Metropolitan Government. Seoul City is spreading Star Parking as a good case practice in over 25 autonomous districts, proving its success as a service, but it doesn't mean there were no difficulties when they started off.
"The lack of consumers' awareness about sharing was the challenge we faced. It wasn't easy to gather participants who were willing to share their parking spaces. Many people think of this from a wealth perspective. I think it's a problem faced by every company that runs a shared business."
In order to overcome this, CEO Kim carried out SNS and campaign to spread information on the safety and usefulness of parking sharing. He advertised in SBS's late-night broadcasting station to share the necessity of a shared economy and the usefulness of parking sharing services.
In the end, he was able to have an agreement with the government office, and this led to a rapid increase in the number of shared parking providers. CEO Kim believes that the shared economy market, and not just parking sharing services, will lead the economy in the future.
"I think that the business model to reach the 4th industrial revolution is a shared economy. By 2020, internet platform subscribers are expected to reach 3 billion. In the end, shared economy will be driven by consumer experiences and data-centric services, and will form a collaboration among industries. Here, the Korea Parking Sharing Services is preparing to lead the revolution for sharing. We will provide a parking service that can be accessed anytime and anywhere by establishing a platform to allow real-time parking lot management and to share available parking spaces between providers and users. In addition, we will exert our best efforts in securing reliability and service quality by working with municipalities and outstanding companies."
CEO Kim aims to make the parking sharing service a shared company that will surpass Airbnb or Uber someday.