The results of the 2017 Seoul City Sharing Village Construction Project have been revealed.
The Seoul Metropolitan Government held an autonomous region contest last June 20, 2017 regarding the Sharing Village Construction Project, and selected a shared apartment project in Seongbuk-gu last August.
Later on, Seongbuk-gu underwent a briefing session with the residents regarding the sharing village project, and then held the shared apartment contest. Two apartments in Seongbuk-gu (Kumho Oullim Center Hill in Gireum Station and eComfortable World Bomun Apartment) were selected. The Seoul Metropolitan Government provided KRW 12M for the project's expense.
Shared apartments are apartments that open and share various idle resources between local and nearby residents in order to create an open residential space that focuses on residential communities in apartment complexes.
It shows a new way of living in an apartment that we're living in.
Kumho Oullim Center Hill, the first shared apartment in Seoul, displays the signboard hanging ceremony and introduces how it was built as a shared apartment.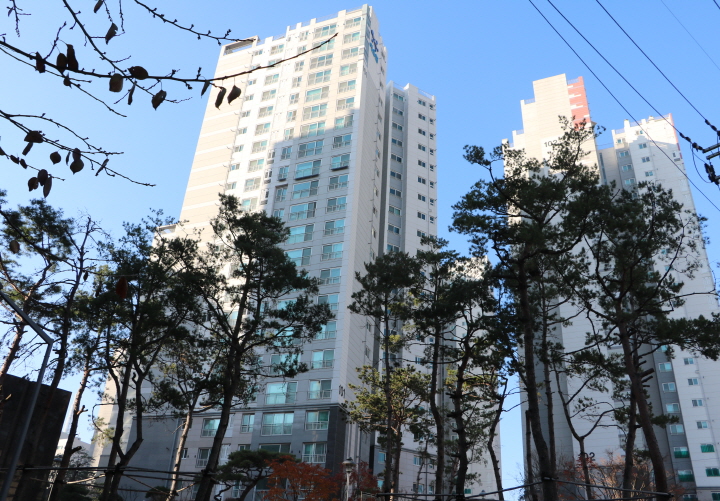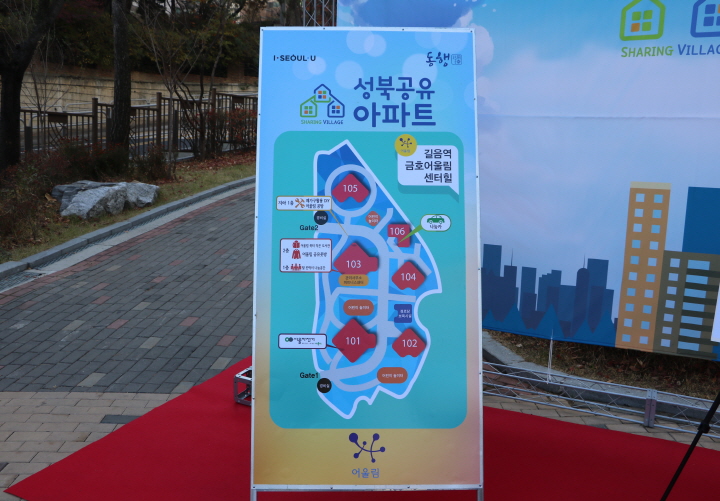 As the first shared apartment, Kumho Oullim Center Hill in Gireum Station includes Ttareungyi, a public bicycle-sharing project in Seoul City, and Nanum Car (Green Car), a car usage service, installed on-site.
At the time of the contest, a shared closet was created, as proposed by Kumho Oullim Center Hill.
This is the first time that Ttareungyi, Seoul City's bicycle sharing service, was installed inside an apartment complex; thus allowing residents to use Ttareungyi.
Building #101 where Ttareungyi is located previously housed a bicycle stand; however, it wasn't properly managed and only caused trouble as it was filled with broken and ownerless bicycles.
This has now changed as Ttareungyi's stand, which is directly managed by the Seoul Metropolitan Government, solves the aesthetical problem, securing bicycles that various people may use.
On the morning of the signboard hanging ceremony, a few people have already borrowed Ttareungyi and the emptiness of the bicycle stand shows its popularity.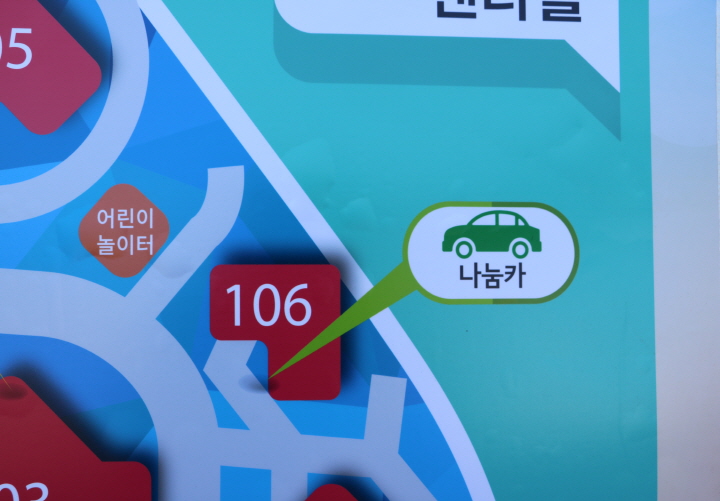 Moreover, in the parking lot on Building #106, Nanum Car is installed, lessening the need to travel far for car sharing services and thus increasing convenience.
There may have been disagreements among residences in providing parking lot spaces for car sharing services, but this process operated smoothly as they were all united with the belief of possessing a shared apartment.
The shared closet proposed by Kumho Oullim allows the sharing of clothes, such as uniforms, suits, Hanbok (Korean traditional clothing), by utilizing the idle space in an apartment complex. There is also a sewing machine that can repair clothes so residents can do so on their own. This created a shared space for clothes that have become too small, or worn out, allowing residents to reform or donate clothes.
Apartment officials mentioned that the shared closet's purpose is to share skills and space by recycling resources, and donating or repairing clothes.
In addition, there is a village library beside the shared closet, establishing a reading culture and allowing self-development, based on the recycling of book resources and the culture of donation.
On November 21, the day of the signboard hanging ceremony, there was high attendance, with the residents, the city that supported the shared apartment project, gu (borough) office person-in-charge, and resident representatives putting the bitter cold weather to shame.
Lee Eun-sook, the head of the shared closet and representative of Building #103 at Kumho Oullim, discussed, "We have been selected by Seoul City for our excellence in community activation due to our activities such as the DIY workshop using the small library and waste furniture. The final round will be on December. We have enjoyed the honor of being nominated as the first shared apartment in the Shared Apartment Project. We plan to create a shared closet in the empty corridor of the second floor in Building #103 to share old clothes. Through this space, I hope that we become an apartment that doesn't lock its doors, but an apartment that communicates with each other."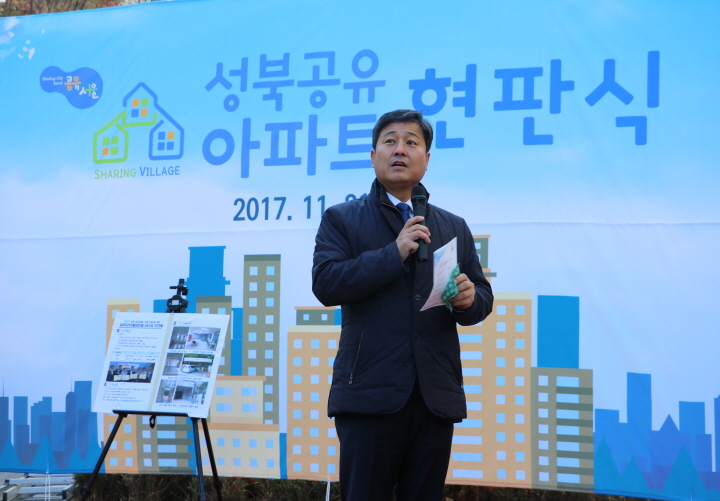 (Kim Young-bae, Director of Seongbuk-gu)
Kim Young-bae, Director of Seongbuk-gu, mentioned, "A sharing village is the first in Seoul, and also a first in the whole country. It's rare to use the term "village" in an apartment complex, and it can be said that a shared apartment is a unique phenomenon.
However, apartments, which were once a symbol of isolation and disconnection in the city culture, have transformed into a shared one so we can live together as one village. This is a great change of ideas, and will write a new history of the city culture in Korea.
Similarly, a shared apartment is a small start, but will be a wave that will bring about a vast transformation."
(Jeon Hwo-gwan, Director for Innovation, Seoul)
Jeon Hwo-gwan, Director of Innovation of Seoul City and manager of the sharing village project, said that, "Seoul City's sharing project is famous overseas. An apartment complex is a space where the residents create stepping-stones for a better life on their own, given the problem of the lack of spaces for experiences of residents and citizens. I believe that this will be a catalyst for social proliferation, and change the existing apartment culture.
The Seoul Metropolitan Government has promised its support to the project by providing resources, budget, and administrative power with the cooperation of the gu office so that the shared apartments may be operated well."
(Kim Gu-hyeon, Seoul City Councilor)
Seoul City Councilor Kim Gu-hyeon said, "The shared apartment was created because each one of you here gathered today have worked hard to make it happen. The Kumho Oullim Apartment will be recorded in the history of Korea's residential culture. Including Representative Chairman Ji Jang-Hwan, Union President Lee Hwa-young, Elderly Chairman Im Chun-sik, and so on—these are the heroes who made today's shared apartments."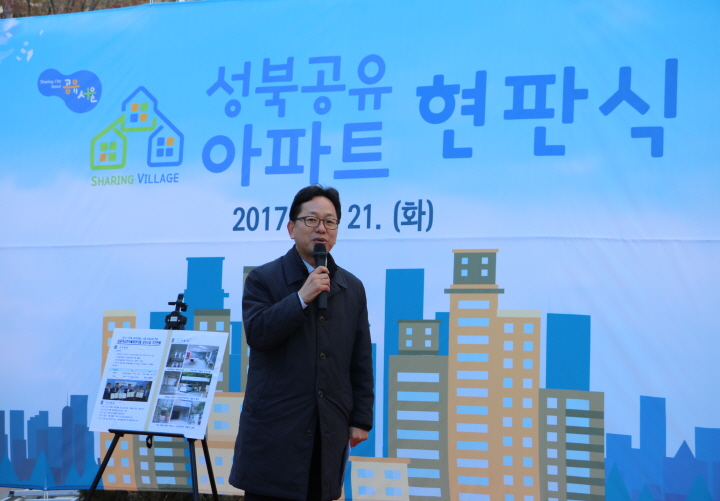 (Kim Moon-soo, Seoul City Councilor)
Seoul City Councilor Kim Moon-soo, talked about the poomasi (communal sharing of labor) in rural areas, and said, "In a city where one has worked hard for oneself, apartments are currently structured in such a way that we cannot help but live as a community. Given this, we must level up from living for oneself to living with another so that we can walk the road to happiness. I hope Kumho Oullim Apartment can be set as an example and thus be spread to and develop in other apartment complexes."